What are outdoor eBooks?
Outdoor eBooks are a new, refreshing way to encourage children to read actively and interactively. These types of books are very effective for children who struggle to read or are reluctant to read.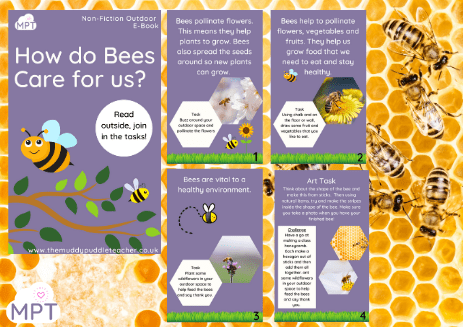 Download our eBooks onto a device and read. We do a range of non-fiction and fiction texts as well as scavenger hunts and easy-to-follow board games. All completed outside!
At the end of each page, the children have read, there is then a comprehension question that will test they have understood what they have read.
The activities are all active methods to learn and use The Muddy Puddle Teacher Approach, so only with natural materials.
Our eBooks also have many cross-curricular links and supporting comprehensions such as Knowledge and understanding of the world and physical development.
Here are some free bee resources: